Účast SKIVELA na prvním seriálu Mercedes-Benz Cyklomaraton 2014. Čapek obhájil prvneství v MTB XC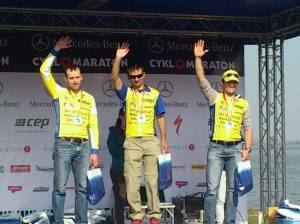 Pětice bajkerů z týmu SK SKIVELA neslyšících Olomouc se postavila na start závodu horských kol prvního seriálu Mercedes-Benz Cyklomaraton 2014. Za příjemného jarního počasí si Cyklomaraton Pálava na jižní Moravě, coby v nejteplejším koutu republiky, hostí každoročně tradiční "otvírák" cyklistické sezóny
Závod v délce 56km v kategorii neslyšících dojel nejrychleji Pastrnek P. v čase 1:51 s celkovým umístění na 39. místě. Za ním skončil Kocourek F. s celk 55. Na třetím místě se umístil Dohnal. R, celk 63., na čtvrtém místě se umístil Studýnka D. celk 65. a pátý skončil. Brix J. celkově 277.
Po startu se závodníci pustili do táhlého stoupáni v obci Pavlov a poté se sjíždělo dolů k přehradě se nadále pokračovalo kolem vodního díla Nové Mlýny do Lednicko-Valtického areálu a pak po hranici CHKO Pálava zpět do Pavlova. Odtud naši bajkeři ve druhé půlce závodu zamířili ještě k dalším kilometrům mezi vinicemi okolo Děvína. V této části trasy přibylo kopců a ty začaly oddělovat zrno od plev. Nejrychlejšího vítězného času 1:41 dosáhl Pavel Boudný, čímž dosáhl rychlostního průměru přes 30km/h, který byl nezvykle vysoký na MTB závody.
Výsledky: http://sport-base.cz/data14/palava/abs50.pdf
V tomto seriálu je oficielní výsledková databáze pro neslyšící, ve které se započítávají body do celkového hodnocení
Výsledky http://sport-base.cz/v14.html
Zde bylo také zastoupení neslyšících žen, které absolvovaly trať na 30km. Z SK SKIVELO Procházková Marcela dojela na vynikajícím druhém místě v čase 1:58h!
Jan Čapek na MTB XC a Partners 50 Podralsko
Další člen SK SKIVELA Čapek Jan se zúčastnil se v so. Zúčastnil jarního XC v pivovaru ve Vratislavicích. Po startu se snažil nepřepalit a z 5. Pozice se postupně propracoval až na vedoucí pozici, kterou si udržel až do cíle, takže byl vítězem v tomto závodě. Trať závodu se dala porovnat jako na MS 2011 v Kanadě Mont Treblant.
Jakoby mu to nestačilo, tak druhý den se zúčastnil maratonského závodu PARTNERS 50 PODRALSKO. Tento maraton byl již 5. ročníkem, který se konal v Osečné, malém městě ležícím na jižní straně Ještědského pohoří a na pokraji Ralské pahorkatiny.
Trať závodu vedla po šotolinové cestě po bývalých Ruských okupantech. Zhruba na 35 km se přední skupina v počtu 50 lidí rozdělila na dvě skupiny. První byla v počtu 15 členná a Čapek ve druhé skupině, která se později ztenčila na 20 závodníků. Při vjíždění do poslední zatáčky před cílem upadl Čapek na vedoucí pozice ve skupině. Dost si odřel koleno a dojel si pro 7.místo ve své věkové kategorii M40 a celkově 31 z 250účastníku. Nebýt této smůle, tak ve své kategorii mohl vyhrat, ale sport je sport a i tak je to výborné.
Výsledky http://sport-base.cz/data14/osecna/abs50.pdf