Neslyšící bikeři na Bike Four Peaks 17.- 20.6.2015
Tým na Bike Four Peaks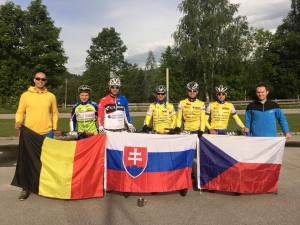 složení: Miroslav Bilík (šofér) SVK, Jean Pierre Fauconnier BEL, Julius Maťovčík SVK, Pavel Pastrnek CZE, David Studýnka CZE, František Kocourek CZE, Roman Dohnal (šofér) CZE
BFP_entire_route
Je to jeden z nejnáročnějších etapových závodů jednotlivců na horských kolech. Dříve se jezdil v Německu jako Craft Trans Germany, ale od roku 2013 se závod přesunul do Rakouska. Na závod je limit 1000 závodníků a letos na ně čekaly čtyři etapy v Rakousko-Italských Alpách. A letos se zúčastnil i neslyšící tým ve složení Pavel Pastrnek, David Studýnka, Franta Kocourek (SKIVELO), Julo Matovčík (SVK) a Fancounier Jean Pierre (BEL). Doprovod zajistil Roman Dohnal (SKIVELO), který klukům pomáhal s dopravou kol a po celou dobu zajišťoval veškeré potřebnou pomoc s přepravou věci, v průběhu závodu podávání pití jídla a podobně. Díky jeho obětavé práci, bylo vše perfektně zajištěné. Na alpských pastvinách měli kluci štěstí, že jim společníka nedělal statný býk a že dres Skivelo červenou barvu neobsahuje.
HP_BFP_Stage01
1. etapa v délce 56km startovala v Bad Kleinekirchenu, kde byl i cíl. Trasa po startu vedla hned do dlouhého stoupání až na vrchol hory ve výšce kolem 2400m. Sjezdy byly velmi nebezpečné (typu Enduro – závody na sjezdových kolech), takže pro některé závodníky bylo náročné sejít i pěšky. V této etapě měl nepříjemný pád Studýnka, do kterého ve sjezdu zezadu najel soupeř a oba dva spadli při rychlosti asi 50km/h a měl štěstí, že se mu nic vážného nestalo (jen naražené a odřené koleno spolu s holení). Nejlépe v pořadí skončil Matovčík, a to na 66. příčce. Studýnka přes pád na 77. místě, Pastrnek na 101. místě, Pierre na 108. a Kocourek na 126. místě.
HP_BFP_Stage02
2. etapa vedoucí z Bad Kleinekrichenu do Hermagonu měla 91km, ale s převýšením a náročnosti trati nepatřila mezi nejnáročnější. Závodníci zde dosahovali hodně vysokých rychlostních průměrů. Zde nejlépe dojel opět Matovčík na 56. místě, za ním Pierre na 75. místě. Dalším v pořadí byl Studýnka na 77. místě, na 94. místě Pastrnek a pak Kocourek na 100. místě.
HP_BFP_Stage03
3. etapa vedla z Hermagonu na stranu Italských Alp a cíl byl v Rakousku a to přímo Tropolachu. Tato etapa byla královská, i když délka byla jen 59km. Jinak řečeno byla to etapa – rasovina s celkovým převýšením přes 2500m. Byly zde velmi prudké a dlouhé výjezdy a to po nezpevněných stezkách, po kterých se muselo jít místy i pěšky. Byla to velmi zatěžkávající zkouška fyzické i psychické odolnosti. Nejlépe se s ní popral opět Matovčík na 64. místě a kousek za ním na 67. místě Studýnka. Pastrnek dojel na 99. místě, za ním na 111. místě Pierre a na 169. místě Kocourek, který si v průběhu závodu natáhl Achillovu šlachu při výšlapu v prudkých kamenitých pasážích.
HP_BFP_Stage04
4. poslední etapa po trase z Tropolachu do Weissensee byla o něco méně náročná, ale nepříznivé počasí provázené deštěm závodníkům moc nepřidalo a spolu s únavou už to bylo morálku dojet do cíle. Z neslyšícího týmu byla velká bojovnost Studýnky, který obsadil 66. místo. Za jeho zády skončil Matovčík na 76. místě. V dalším pořadí 78. místo obsadil Pierre, na 83. místě Pastrnek a na 87. místě místo zraněného Kocourka obsadil Dohnal, který mu tak pomohl zlepšit celkové umístění.
Z neslyšících cyklistů byl nejlepší Matovčík, který obsadil 59. místo, za ním Studýnka na 65. místě. Pierre skončil 84. a hned za ním Pastrnek na 86. místě. Pátý člen týmu Kocourek spolu s Dohnalem obsadili celkově 111. místo. Jako tým skončili na celkovém výborném 13. místě z 33 hodnocených družstev. Celkové výsledky najdete zde http://bike-fourpeaks.de/en/results/ . Velké poděkování patří firmám DT mostárny Prostějov a TOS HULÍN, které finančně podpořily účast neslyšících cyklistů v tomto závodě, neboť zde startovné na osobu byly velmi nákladné.
Všichni kluci ukázali velkou bojovnost a vůli, protože závod dokončilo kolem 800 závodníků. Věříme, že účast v tomto závodě je s výkonnosti posunula dále. Následující víkend v sobotu je čeká Evropský pohár v Kirchbergu, kde pojedou maraton na 46km s podobným převýšením jako byla královská etapa! Držme našim borcům palce!!!