Čtveřice našich členů na Tour de Formosa, Tchaj-wan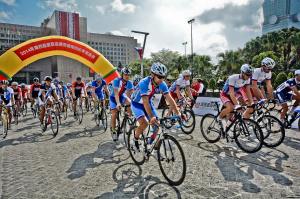 Čtvrtý ročník celosvětového silničního etapového závodu kolem ostrova Tchajwan se v letošním roce uskutečnil na přelomu října a listopadu. Tour de Formosa je organizovaný po vzoru Tour de France. Kromě trojnásobného mistra světa Jana Čapka a Františka Kocourka se závodu zúčastnili také Pavel Pastrnek a David Studýnka, všichni jsou členové v SK SKIVELO neslyšících Olomouc a zároveň v Českém svazu neslyšících sportovců. Je to poprvé, co se závodu zúčastnil takový počet reprezentantů z ČR. Vedoucím výpravy byla stejně jako u předchozích ročníků tlumočnice do mezinárodního znakového systému Markéta Spilková, která je "viceprezidentka" v ČSNS (Český svaz neslyšících sportovců). Organizačně pomáhala s výpravou celého týmu před a v průběhu konání závodu.
Celkové výsledky:  Studýnka David 8., František Kocourek 11., Jan Čapek 14., Pavel Pastrnek 18.
Celkově se zúčastnilo 24 neslyšících závodníků z 9 států a to Francie Belgie, Česká republika, Japonsko, Kanada, USA, Slovensko a Tchaj-wan. Poprvé v počtu 14 startovali i slyšící závodníci. Ocenění a bodování bylo pro každou kategorii zvlášť; celkový vítěz byl určen jak v kategorii neslyšících, tak i ve slyšící kategorii. Hodnocení je tedy podobné jako u nás v České republice na Cyklomaraton tour, kde jsou také samostatně oceňováni cyklisté se sluchovým postižením.
Letošní závod se skládal ze sedmi etap v celkové délce skoro 900 km. První etapa vedoucí z Taipei do hor s názvem vrcholu Yang-Ming měřila 26 km, z toho 10 km se stále stoupalo. Z našich se nejlépe umístil David Studýnka, a to na 8. místě. Druhá etapa v délce 146 km vedla z New Taipei do Taichung, čili ze severní části ostrova k západní. Třetí etapa měřila 173 km, měla převážně rovinatý profil a vedla z Taichungu do Tanian. Čtvrtá etapa v délce 171 km skončila bronzovou příčkou Františka Kocourka. Ve druhé polovině čtvrté etapy vedla trať převážně podél západního pobřeží k nejjižnější části ostrova. Pátá etapa byla díky nebezpečným horským průjezdům zkrácena ze 143 km na konečných 70 km. Předposlední etapa byla dlouhá 155 km a vedla z Taitung do Hualien. V poslední etapě měřící 87 km získal František Kocourek krásné čtvrté místo. Celkovým vítězem celého závodu v kategorii neslyšících se stal Rus Dmitry Rozanov, druhý skončil Američan John Klish a třetí Belgičan Jean-Piere Fauconnier.
Etapy byly zorganizovány na profesionální úrovni. Doprava na silnicích, kudy projížděl peloton cyklistů, byla důkladně uzavřena. Vše hlídal policejní doprovod spolu s vozidly hlavních rozhodčích, pořadatelů a doprovodné vozy jednotlivých týmů. Nechyběla lékařská péče a autobus pro odpadlé cyklisty. Další ročník by se měl konat za dva roky. Vše závisí na finančních prostředcích.
Web odkaz: http://deaftourdetaiwan.deafsports.org.tw/